Details
Process Lasso is NOT yet another task manager. It is a process optimization and automation utility. Priority optimization, affinity optimization, automated rules, you name it and Process Lasso has it. One of Process Lasso's most popular features is a unique technology called ProBalance (Process Balance) that will improve your PC's responsiveness and stability through process priority optimization. Windows, by design, allows programs to monopolize your CPU without sufficient restraint -- leading to hangs and micro-lags. ProBalance intelligently adjusts the priorities of running programs on-demand so that badly behaved processes won't negatively impact the responsiveness of your PC. It does this not by raising process priorities, but instead by temporarily lowering the priorities of background processes that may be interfering with foreground responsiveness.
Don't just take our word on ProBalance, try the graphical demo - a simple 'CPU Eater' running at normal priority, something any programmer can easily recreate in any language. How many threads running at normal priority, doing nothing other than consuming CPU cycles, do you think it would take to bring your PC to its knees? On a single core system it takes merely one thread at normal priority! Yes, it would almost seem like a bug in Windows, but it is by design, an explanation we also give in the above link.
In addition to ProBalance, there are countless features allowing the user to take full automated control of the processes on their PC. You can have a wide range operations performed, or settings applied, each time a process is run. You can choose at what priority processes should run, and which CPUs should be assigned to them. You can also disallow certain processes from running, log all processes run, automatically restart processes when they terminate or reach a resource consumption threshold, limit the number of instances, and much more. You can even indicate processes that should induce entrance into the High Performance power scheme and/or prevent the PC from sleeping. A gaming mode allows for easy process priority optimization for avid gamers.
Version 5 adds many features, including I/O Priorities (default and current), Default Power Schemes, HyperThreaded Core Avoidance, Automated Updates, and much more.
ProBalance
Balance process priorities (or CPU affinities) in a safe, effective manner to improve PC responsiveness during high loads and prevent system stalls and micro-lags. Our technology does NOT do additional foreground boosting, instead it lowers background process priorities where appropriate. Our years of experience have resulted in a highly optimal algorithm duplicated nowhere.

Persistent (sticky) priorities and affinities


Set 'default' (persistent, sticky) priorities and CPU affinities for your processes, allowing you to tweak the way in which they are executed

Auto-terminate


Terminate select processes any time they are found to be running

Process Watchdog


Terminate, restart, or change CPU affinity when a specified threshold is met

Instance Count Limits


Limit processes to a specified number of instances

Independent Core Engine


This core engine (the governor) is what actually does the work. It can operate in the background as either a normal process *or* as a service. By having only it start, there is no user interface or system tray icon. The GUI can be launched on-demand as needed for ocnfiguration changes.

Multi-Core Optimization


Through default CPU affinities and ProBalance affinity adjustments, you can optimize your multi-core processor to make the most efficient use of your CPUs (cores). It also offers logical core avoidance to improve performance of certain applications on HyperThreaded CPUs.

I/O Priorities

new


For Vista and above you can set the current or default/persistent I/O priority of processes

Power Scheme Automation


Set the power scheme to automatically change to 'High Performance' when certain processes are running, then change back when they exit (more powerful in new beta, can change to any scheme). Save energy, or increase performance on-demand!

System Responsiveness Metric


Our unique algorithm monitors system responsiveness with amazing accuracy

Minimal Resource Use


NOBODY uses less resources for this type of task than Process Lasso. It is written in native C++ and continually refined for maximum efficiency. A native 64-bit build also available. Private memory usage by the core engine is typically under 1MB! (depends on system)

Utilizes new features of Windows Vista/7


Makes use of latest features of Windows 7, but maintains full backwards compatibility to Windows 2000!

So much more...


Discover for yourself what Process Lasso can do for you! Quick example of one more feature -- the multi-select feature.. That's right, select multiple processes and act on all of them at once!

Select Multiple Processes at Once


Want to terminate 5 different processes at once? Or set their current or sticky priority class or CPU affinity? No problem. Select multiple processes and work with them.
As an aside, in Windows Vista and Windows 7, adjustments of the process priority class also have an effect on the I/O and SuperFetch memory priorities for that process.
Once you install Process Lasso, it will just start working. More advanced users can tweak the configuration, but you needn't touch anything to have it instantly improve your system responsiveness and prevent stalls in high load situations.
Process Lasso is very useful and effective on even the latest high-end PCs. However, its ProBalance algorithm achieves maximum effect on PCs with relatively little CPU 'power', such as Netbooks, Tablets, and older desktops.
Process Lasso runs on all editions of Windows 2000, XP, 2003, 2008, Vista, and Windows 7.
Process Lasso is written in native C++, not .NET. The background core engine that manages processes is completely independent from the graphical user interface, allowing you to keep process rules applied with almost no overhead. With Process Lasso, load time is instant and resource consumption is minimal.
Screenshots
Here are some screenshots of Process Lasso. Note that sometimes we may have screenshots of the current beta instead of last final. Naturally, we are eager to announce our new capabilities.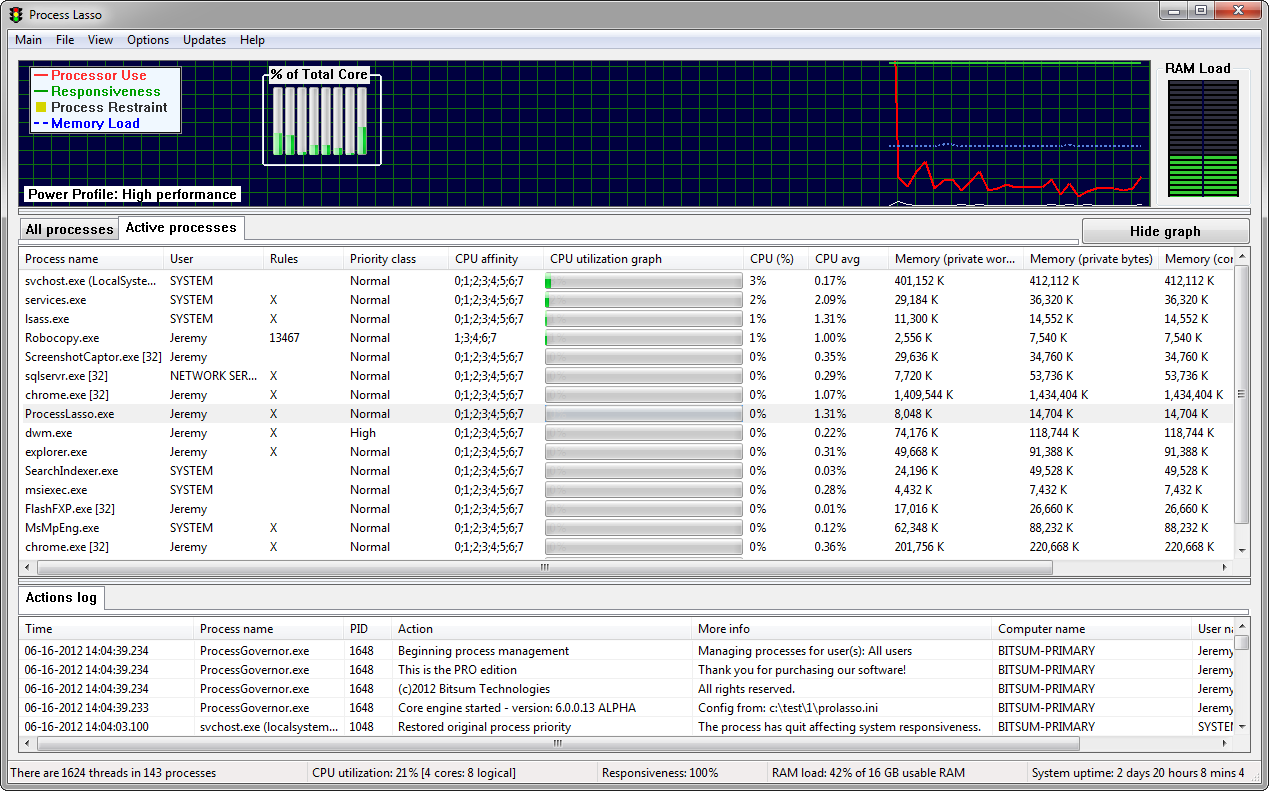 Graphical Interface Features
Basic task manager capabilities for convenience
Act on *multiple* processes at once
Show only active processes, or all processes
Displays per-process CPU history
Change process settings and rules
System tray icon with notifications
Extremely low resource use, and sleeps when minimized to tray